How Safe Are TASER Weapons?
TASER Smart Weapons help protect life. They're the safest and most effective weapons we've developed yet and offer advanced features like the TASER X2's warning arc, charge metering and more.
When we built the TASER Smart Weapon, our engineers had three thoughts in mind: safety, accountability, and performance. Unlike their predecessors, our Smart Weapons are built on an all-digital platform. They have the ability to regulate charge output, perform health checks, update firmware over the web, and provide analytics displaying how and when someone uses the weapon.
180,000+

lives saved

from death or serious bodily injury. (Source)

3,460,000+

uses in the field

by officers around the world. (Source)

99.75%

resulted in no serious injury

in 1,201 field cases of TASER use. (Source)
Improved Data & Analytics
Our Smart Weapons technology features improved data and analytics, letting you get to the truth of what happened at an incident. Through Evidence.com, you can view numerous details and data on how Smart Weapons were used with these important records:
Event Logs: Saves every user action for your record-keeping, including safety activation, and trigger event duration with times, dates, and battery life.
Pulse Logs: Displays a pulse-by-pulse record of weapon output.
Confidence In Court
I was called to be an expert witness for a case where a violent, drug-intoxicated subject was subdued with a TASER X2. The subject filed an intent to sue for excessive use of force. While in court the TASER X2's firing logs were presented as evidence, corroborating the deputies' accounts and helping prevent a lawsuit from developing.
Kevin Sailor, Westminster PD
---
Research & Safety
The numbers tell the story, TASER products save lives, prevent injuries, reduce litigation, and save agencies a lot of money. More than 800 reviews have affirmed the safety and life-saving value of TASER technology as a safer, more effective use of force.
---
Saving Lives
TASER weapons exist to save lives. Law enforcement officials rely on our weapons to protect life, and we continue to innovate today, leading the world in electrical weapons technology. Our Smart Weapons specifically target the motor nerves that control movement, which enhances the effectiveness of restraint while minimizing harm—an alternative far superior to using firearms in many contexts.
---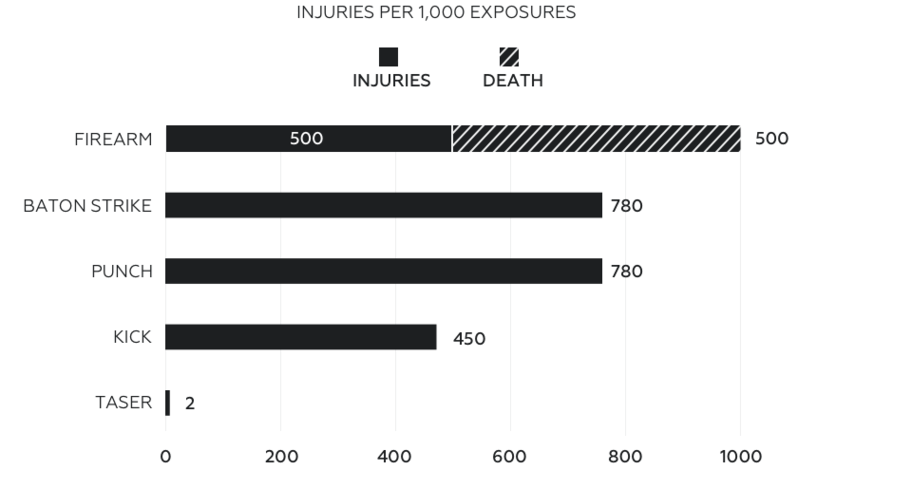 Houston Study
In a longitudinal study, the Houston Police Department saw TASER devices help decrease workers' comp claims by 93%. Deploying alternative means of force has also shown to reduce suspect injuries by as much as 60%.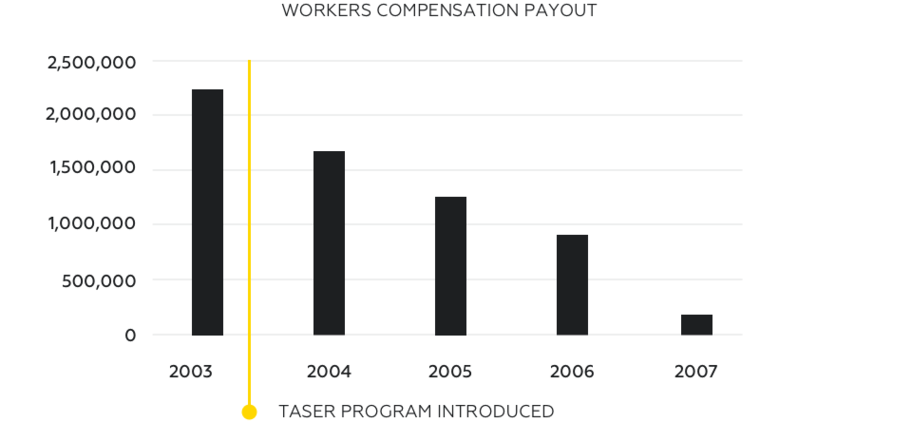 MacDonald, et al. in American Journal of Public Health
In a peer-reviewed study, published in the American Journal of Public Health, MacDonald, Kaminski, and Smith examine less-lethal weapons including conducted electrical weapons. Analyzing data from 12 police departments across 24,380 use-of-force cases involving injury to officers or civilians, this study found that "odds of injury to civilians and officers were significantly lower when police used CED weapons." Overall, the study concluded that when law enforcement agencies responsibly employ less-lethal weapons instead of physical force, injuries can be dramatically reduced.


Ferdik, et al. in Police Quarterly
Using data from a representative sample of American law enforcement agencies, this independent study in Police Quarterly shows "that less restrictive CED policies are associated with increased CED usage and fewer fatal shootings by police." The results show that agencies policies which allowed wider use of CEDs, were "substantially and significantly associated with decreases in the number of fatal police shootings."


US Department of Justice
In a 5-year TASER safety study by the US Department of Justice 'an expert panel of medical professionals concludes that the use of conducted energy devices by police officers on healthy adults does not present a high risk of death or serious injury.'
In comparing records 24,000+ use of force conflicts from 12 different agencies, a separate DOJ study found the risk of injury to suspects apprehended with TASER brand weapons typically fell more than 60 percent compared to the risk to suspects who were arrested without the devices, when all other conditions were similar.


Police Executive Research Foundation
A Police Executive Research Foundation (PERF) study found that CEWs led to fewer officer injuries and fewer suspect injuries. Use of TASER CEWs was associated with a 76% reduction in the chances of an officer being injured compared to agencies that do not use CEWs, and the odds of a suspect being injured were reduced by more than 40% in TASER CEW agencies compared to non-CEW agencies.


The American Medical Association
The American Medical Association assessed that TASER devices are a "safe and effective tool" and "can save lives during interventions" when used appropriately.

References